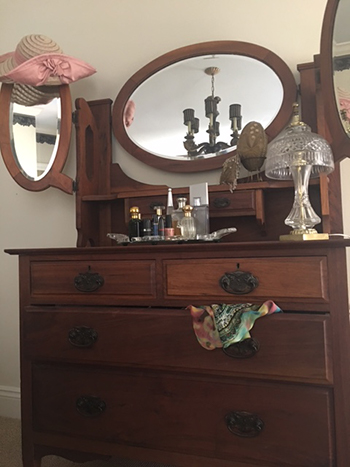 In chapter two of King Daniel, Becca has to grip the banister to steady herself when she climbs the stairs to her mother's bedroom. At the top of the staircase, she sees Eula, her beloved nanny, who has cared for Becca ever since she was born. From the novel we know Eula is an elderly family retainer who is slowly losing her eyesight. Here is a clip from that scene in the hall. Becca raced up the last few steps and almost toppled into Eula's arms. She clung to the old woman and the musky scent of her skin. Eula's hair had turned white, and it was wound in a thick braid across her head. Her unusually large hands cupped Becca's face.
"Mr. Dan?" Eula squinted down the hall and then turned back to Becca. "I wouldn't say a thing to your Nattie, but don't you know he's up to no good." Eula puffed her cheeks out like she did when she was nervous. "And him Gasparilla King now. I'd give my little pinky to know what he's up to." She pinched the end of Becca's chin. "But don't go fretting about it. Old tomcats ain't rid of easy. And it's burden enough 'round here with Miss Natalie moping and your brother calling every other hour."
"Kurt's calling?" Becca asked.
Eula's eyes rolled. "Out of the blue!" she said. Looking for Mr. Dan. Just like you coming home. This whole household turned topsy-turvey, except your mama up here."
Becca peered down the hall. "How's mother?"
Sadness shadowed Eula's face. "Like a butterfly in a web." She squeezed Becca's arm. "But you go on up. She'll be surprised to see you, child."
Here's a scene that's not in the book.
Eula watched as Becca disappeared into her mother's room. She glanced around the darkened corridor, and then inched her hands along the wall searching for the light switch. "Gotta be 'round here somewhere," she mumbled under her breath. Then she stopped, puzzled by the curious events that just kept happening. First Mr. Dan goes missing, then Kurt starts calling, and now Becca shows up against all odds. A bit superstitious, Eula sniffed the air. Yep, the scent was rife with trouble. She remembered yesterday morning when she'd found Miss Natalie propped on a kitchen stool talking to herself. Something about explaining something to someone. Lately, Miss Natalie was more than her spooky-self. Eula had made her a cup of tea to calm her nerves, and then she went upstairs to make the beds.
That's when she'd found it. Lordy knows she wasn't looking for it either. Natalie's underwear drawer had been left half-way open with just a smidge of a silk scarf poking out. When Eula stuffed the scarf back in the drawer she'd felt it—steely hard and cold. She'd groped further into the drawer and let her fingers curl around the pistol. Then she pulled it out. She'd recognized it as one of Mr. Dan's fancy guns from his collection. But what was it doing hiding among Miss Natalie's private things? Eula guided herself along the wall. Matters were heating up 'round here, and she sure wished Mr. Dan would coming walking through the front door soon. No matter what kind of shape he was in.