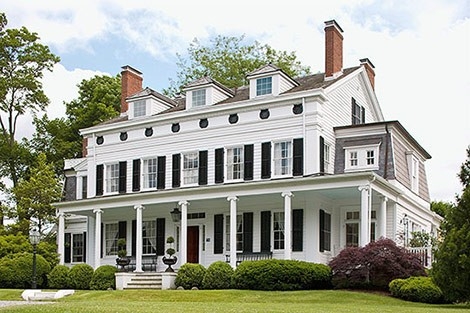 People assume they know someone by how they dress, by how they speak, or what part of town they live in. But when we're able to dive deep into a family's life, into their history, and discover their darkest secrets, we find out that what we see on the outside only scratches the surface of what's really going on inside the home.
At the beginning of the novel, King Daniel, the Westcott family and their mansion on Bayshore Boulevard is portrayed as a dwelling complete with "white pillars, black shutters, rose-covered trellises, and a side-yard fountain that whispered privilege." Indeed the Westcott Mansion was a "home that shielded its residents from ordinary strife." In spite of the fact that Daniel, the newly crowned king of Gasparilla, had missed his own Queen's Party, people who drove down the Bayshore on that summer's eve felt confident that all was well when they saw the house "nestled on its sprawling lawns, aglow in starlight."
The Westcott family was one of the founding members of the Krewe of Gaspar. Their ancestral roots dated back to the mid1800's. After the Queen's Party the townspeople concluded that Natalie, Daniel's wife, or his daughter, Julia could have fallen ill. By morning everyone assumed the answers would be available. That night, as they drove by the Westcott Mansion, only a few people noticed the light in the upstairs window.
Who was up into the wee hours of the morning on the night Daniel missed his Queen's Party? Was it Natalie? Or was it Julia, sitting in her Queen Anne's chair that overlooked the Hillsborough Bay? What was she thinking? Julia was counting back the nights, not last night but the one before, when she'd heard her father tramp down the stairs while her mother was shouting at him. Julia slipped out of her bedroom and stepped down the corridor when she heard the first shot wheel through the house. She'd not yet reached the stairs when she heard the second blast. She stopped and waited. Half-expecting the final shot that came with a blur of smoke, she leaned into the stairwell to see her father stagger down the steps and stumble out the front door while her mother stood in the foyer holding the pistol.
Clearly the goodness of the house was deceiving from the outside. Here was a family that was unhappy in its own particular way. But what was going on inside the Westcott Mansion? Why would Natalie, Daniel's beloved wife, go to the gun cabinet, pull out a pistol, and start pulling the trigger? Check out the excerpt from the novel to find out.